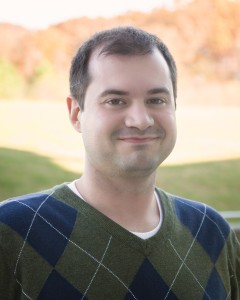 Matthew Frost
Position: Scientific Associate
Beamline: BL-12
Instrument: Single-Crystal Diffractometer
Facility:
Spallation Neutron Source
Email: frostmj@ornl.gov
Phone: (865) 323-1177
Education
​BS, Kent State University, 2005, Physics.
MS, The Unverisity of Wisconsin-Madison, 2007, Engineering Physics and Nuclear Engineering.
Research
Fundamental Neutron Physics, Detector Simulation and Development, Neutron Scattering Instrumentation, Neutron Optics Simulation, Data Analysis Algorithm Development.
Selected Publications
CrystalPlan: an experiment-planning tool for crystallography. Zikovsky J., Peterson P. F., Wang X. P., Frost M., Homann C., Journal of Applied Crystallography 44, 418-423, 2011.
Commissioning, Testing and Initial Results on the TOPAZ Single-Crystal Diffractometer at the SNS. Matthew Frost, Christina Hoffmann, Xiaoping Wang, Xin Tong, Changbo Fu, Wai Tung Lee. Poster Presentation at the American Conference on Neutron Scattering, 2010, Ottawa, ON, Canada.
Initial testing of a Compact Crystal Positioning System for the TOPAZ Single-Crystal Diffractometer at the Spallation Neutron Source. MJ Frost, C Hoffmann, JB Thomision, M Overbay, M Austin, P Carmen, R Viola, E Miller, L Mosier. 2009. Journal of Physics: Conference Series.
Developing a New Method of Crystal Orientation for the TOPAZ-SCD at SNS. M. J. Frost, C. Hoffmann, M. Overbay, J. Thomison, M. Austin, P. Carmen, E. Miller, L. Mosier, R. Viola. Poster Presentation at the American Conference on Neutron Scattering, 2008, Santa Fe, NM, USA