Dirac Magnon in a Honeycomb Quantum XY Magnet CoTiO3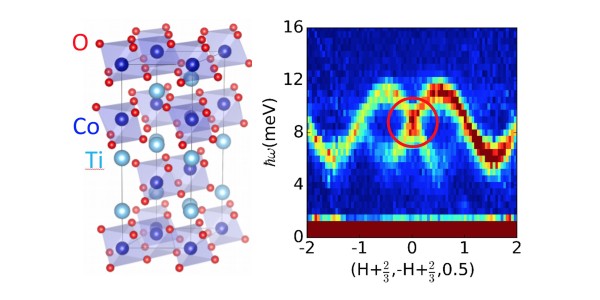 Scientific Achievement
The spectrum of magnons in the pseudospin-½ honeycomb XY magnet CoTiO3 is shown to exhibit a Dirac cone, analogous to Dirac electrons in graphene.
Significance and Impact
This work establishes CoTiO3 as a simple model material ideal for studying topological magnons that eventually may find applications for new spintronic technologies.
Research Details
Inelastic neutron scattering was used to measure the single-ion levels of Co2+ in CoTiO3, establishing the effective spin ½ ground state.
The energy-momentum dependence of the collective spin excitations in the ordered phase of CoTiO3 revealed Dirac magnons near the edge of Brillouin zone.
Spin wave calculations using an XXZ Hamiltonian with near-neighbor intraplane / next-near-neighbor interplane interactions can reproduce the observed spin excitations.   
"Dirac magnons in a honeycomb lattice quantum XY magnet CoTiO3" 
Bo Yuan, Ilia Khait, Guo-Jiun Shu, F. C. Chou, M. B.Stone, J. P. Clancy, Arun Paramekanti, and Young-June Kim, 
Physical Review X, 10, 011062 (2020). 
DOI: https://doi.org/10.1103/PhysRevX.10.011062