Li-ion Batteries Enabled by Chloride Solid Electrolytes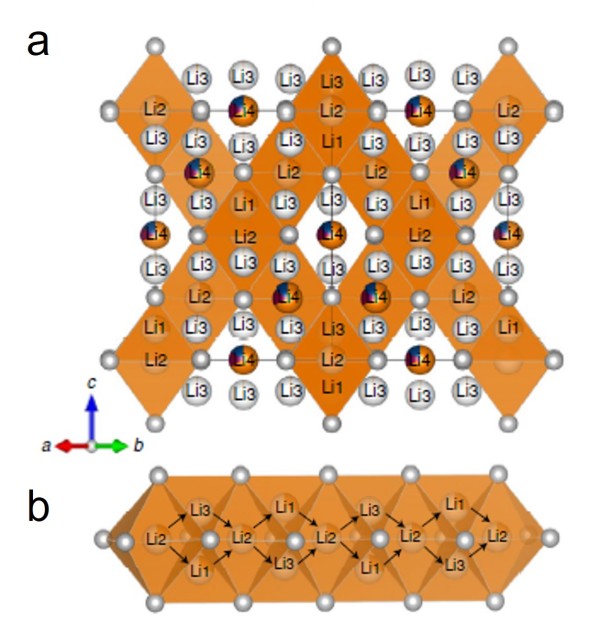 Scientific Achievement
It is shown that 3D Li-ion diffusion pathways with a considerable site fraction of vacancies are responsible for a high ionic conductivity in a new chlorospinel solid electrolyte Li2In1/3Sc1/3Cl4.
Significance and Impact
This work provides a new approach for the design of solid electrolytes with an emphasis on ultralow electronic conductivity and excellent chemical compatibility between cathode and solid electrolyte.
Research Details
Crystal structure of the solid electrolyte (Li2In1/3Sc1/3Cl4) was determined via high resolution powder neutron diffraction.
The ionic conductivity and activation energy were determined with temperature-dependent electro-chemical impedance spectroscopy (EIS) measurements.
Interface stability was confirmed by time-of-flight secondary-ion mass spectrometry (TOF-SIMS) surface analysis.
"High Areal Capacity, Long Cycle Life 4 V Ceramic All-solid-state Li-ion Batteries Enabled by Chloride Solid Electrolytes"
Laidong Zhou, Tongtong Zuo, Chun Yuen Kwok, Se Young Kim, Abdelijalil Assoud, Qiang Zhang, Jurgen Janek, and Linda Nazar,
Nature Energy 7, 83-93 (2022).
DOI: https://doi.org/10.1038/s41560-021-00952-0