NiSi: A New Venue for Antiferromagnetic Spintronics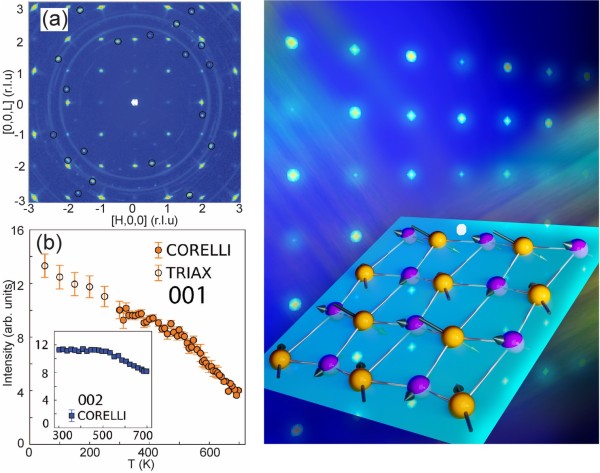 Scientific Achievement
High transition temperature antiferromagnetic order is observed in nickel monosilicide (NiSi) metal accompanied by non-centrosymmetric magnetic character.
Significance and Impact
The distinct magnetic order with TN>700 K and electronic hysteresis response underscore the importance of NiSi in the pursuit of antiferromagnetic spintronics.
Research Details
Single-crystal neutron scattering data were collected at the CORELLI spectrometer, Spallation Neutron Source, Oak Ridge National Laboratory and triple axis spectrometer TRIAX at Missouri Research Reactor.
Complementary theoretical calculations using the self-interaction correction method reveals an antiferromagnetic ground state in NiSi.
"NiSi: A New Venue for Antiferromagnetic Spintronics,"
Pousali Ghosh, Jiasen Guo, Feng Ye, Thomas Heitmann, Steven Kelley, Arthur Ernst, Vitalii Dugaev, Deepak K. Singh
Advanced Materials 35, 2302120 (2023). DOI: https://doi.org/10.1002/adma.202370220