Optimal CO2 Sorption in Functionalized Mesoporous Silica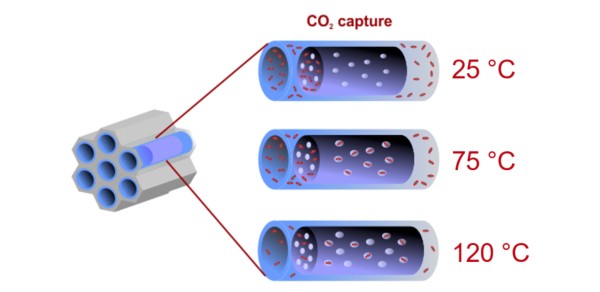 Scientific Achievement
It was shown that the amount of CO2 captured in mesoporous silica (SBA-15)  functionalized with polyethylenimine (PEI) is maximized at a temperature dependent on the amount of PEI; for SBA-15/PEI-50 the optimal temperature is 75 °C.​
Significance and Impact
A better understanding of the mechanism of CO2 sorption in PEI functionalized mesoporous silica has been obtained, showing how to more efficiently apply these materials for carbon capture.
Research Details
PEI loaded SBA-15 was characterized by standard methods as well as small angle neutron scattering (SANS).​
SANS was used to measure CO2 capture in-situ yielding the meso-structure  and CO2 distribution as a function of temperature.​
"Discovering Inherent Characteristics of Polyethylenimine-Functionalized Porous Materials for CO2 Capture,"
Rui Zhang, Xiaoxing Wang*, Shimin Liu*, Lilin He*, Chunshan Song, Xiao Jiang, and Tomasz P. Blach,
ACS Appl. Mater. Interfaces 2019, 11, 40, 36515–36524
https://doi.org/10.1021/acsami.9b08496