Separation of Alkynes from Olefins for Polymer Production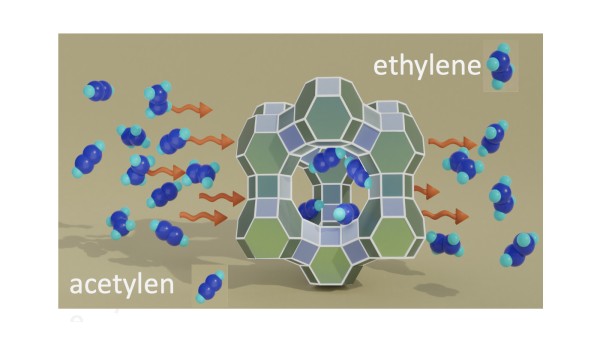 Scientific Achievement
Chemoselective alkyne/olefin separation by a nickel decorated zeolite was found to occur via binding of acetylene to the confined Ni through formation of metastable [Ni(C2H2)3] complexes.
Significance and Impact
Understanding and controlling porous sorbants, like zeolites, can lead to cheaper and more efficient separation of alkynes from olefin, a costly step in the polymer processing of lower olefins (ethylene, propylene, etc.).
Research Details
Ni-decorated faujasite, a zeolite, was produced confining atomically dispersed Ni into zeolite channels.
In situ neutron diffraction and spectroscopy combined with density functional theory calculations revealed that the Ni sites interact much more strongly with alkynes than with olefins, leading to the excellent selectivity. 
The material also exhibits high dynamic uptake of alkynes, thanks to the large specific surface area of the porous faujasite.
"Control of zeolite pore interior for chemoselective alkyne/olefin separations,"
Yuchao Chai, Xue Han, Weiyao Li, Shanshan Liu, Sikai Yao, Chong Wang, Wei Shi, Ivan da-Silva, Pascal Manuel, Yongqiang Cheng, Luke D. Daemen, Anibal J. Ramirez-Cuesta, Chiu C. Tang, Ling Jiang, Sihai Yang, Naijia Guan, Landong Li, 
Science, 368, 1002 (2020). 
DOI: 10.1126/science.aay8447