Short Current Cycle Li-Mediated Nitrogen Reduction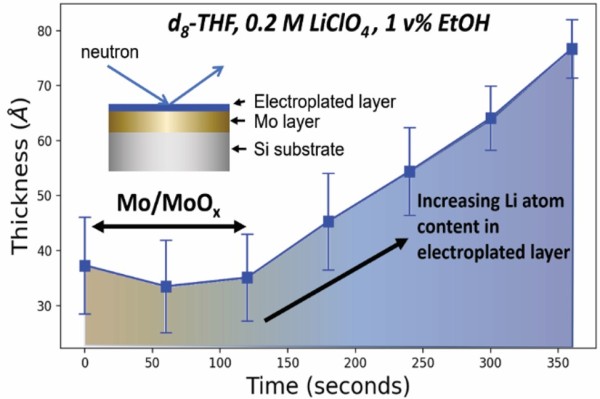 Scientific Achievement
Real-time in-situ measurements of lithium mediated electrochemical nitrogen reduction reaction (NRR) showed the early formation of a lithium-rich layer at the electrode-electrolyte interface with no evidence of an undesirable thick solid-electrolyte interphase (SEI).
Significance and Impact
NRR could be an alternative to the energy intensive Haber-Bosch process for ammonia production and this work demonstrates that short current cycles may be able to mitigate the efficiency-limiting effect of SEI formation.
Research Details
In situ neutron reflectometry was performed on Mo thin film electrodes in contact with tetrahydrofuran/LiClO4 electrolyte at constant current (-0.1 mA/cm2) to follow the formation of the electrode-electrolyte layer.
Measurements with and without ethanol (EtOH) proton source in the electrolyte were compared.
"Lithium-Mediated Electrochemical Nitrogen Reduction: Tracking Electrode−Electrolyte Interfaces via Time-Resolved Neutron Reflectometry"
Sarah J. Blair, Mathieu Doucet, James F. Browning, Kevin Stone, Hanyu Wang, Candice Halbert, Jaime Aviles Acosta, José A. Zamora Zeledón, Adam C. Nielander, Alessandro Gallo, Thomas F. Jaramillo
ACS Energy Letters 7, 1939 (2022). DOI: https://doi.org/10.1021/acsenergylett.1c02833