Spontaneous Anisotropy in Cubic Thermoelectric GeTe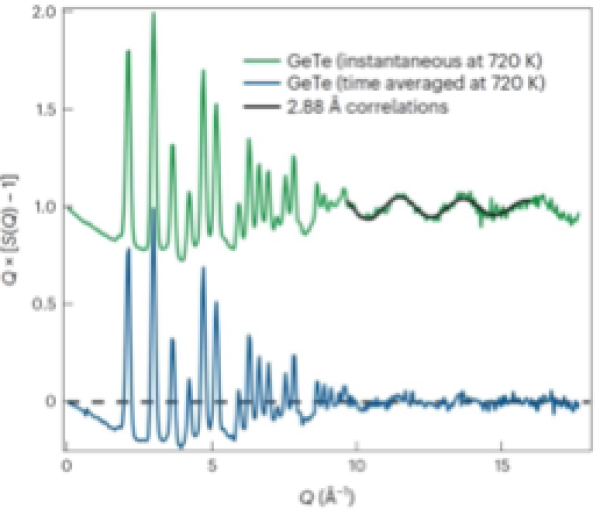 Scientific Achievement
The high temperature thermoelectric material GeTe exhibits no long-range disorder, but instead develops spontaneous anisotropic correlated atomic motions disrupting thermal conductivity.
Significance and Impact
Understanding dynamic disorder in materials could lead to more energy-efficient solid-state devices, like heat pumps, thermoelectric generators, and refrigerators. This work resolves the long-standing disagreement between local and average structure probes.
Research Details
The novel variable-shutter pair distribution function (vsPDF) technique reveals the difference between instantaneous (energy integrated) and time-averaged (elastic) real space atomic correlations.
Combining ab initio molecular dynamics calculations with inelastic neutron scattering simulations identified specific vibrational modes involved.
"Dynamic crystallography reveals spontaneous anisotropy in cubic GeTe"
Simon A. J. Kimber , Jiayong Zhang , Charles H. Liang, Gian G. Guzmán-Verri , Peter B. Littlewood, Yongqiang Cheng , Douglas L. Abernathy , Jessica M. Hudspeth , Zhong-Zhen Luo , Mercouri G. Kanatzidis , Tapan Chatterji, Anibal J. Ramirez-Cuesta and Simon J. L. Billinge,
Nature Materials 22, 311-315 (2023), DOI: ARCS