Second Target Station Instrument Selection
The Second Target Station (STS) Project plans to build 8 initial instruments ready to transition to operations and begin commissioning by the end of the project. The STS Project is actively seeking participation from the research community in the process leading to final selection of these 8 instruments.
The STS at Oak Ridge National Laboratory's (ORNL) Spallation Neutron Source (SNS) will provide transformative new capabilities for discovery science, enabling breakthroughs in many areas of materials research and development. As discussed in the First Experiments: New Science Opportunities at the Spallation Neutron Source Second Target Station report, STS will provide unique capabilities for experiments that require:
Time-resolved measurements of kinetic processes and beyond-equilibrium matter
Simultaneous measurements of hierarchical architectures from the atomic scale to microns and beyond
Measuring small samples of newly discovered or synthesized materials
Examining new frontiers in materials at extreme conditions.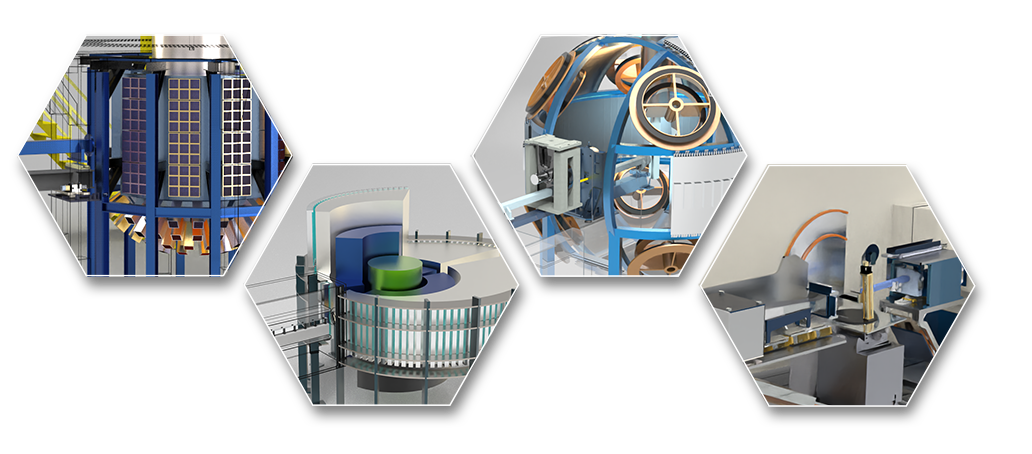 From left to right, instrument concepts: PIONEER, VERDI, CHESS, QIKR
The STS will have capacity for 22 beamlines that will complement beamlines at the SNS First Target Station (FTS) and High Flux Isotope Reactor (HFIR). The STS Conceptual Design Report Volume 1: Overview, Technical and Experiment Systems contains details on anticipated performance and descriptions of some initial instrument concepts.
Science opportunities enabled at the STS have been discussed at previous workshops and in the First Experiments report that map on to an initial set of instrument concepts. Instrument Proposal Teams that formed around 12 instrument concepts have submitted preliminary proposals. Proposal Abstracts and a list of the proposal team members including the proposal spokesperson(s) and ORNL points-of-contact (POCs) are provided here. Researchers interested in more details of these instrument proposals are encouraged to contact the spokesperson(s) or the ORNL POC(s).
Evaluation of all instrument proposals are following the process described in the Selection Process for Second Target Station Project Instruments that includes guidance on proposal team formation, proposal development, the selection requirements and reviews. The next steps in this process include preparation of full proposals and evaluation of the full proposals by the STS Instrument Review Committee (IRC). The STS IRC will then submit recommendations to STS Project and NScD management. A timeline and key dates can be found below.
Instrument Selection Timeline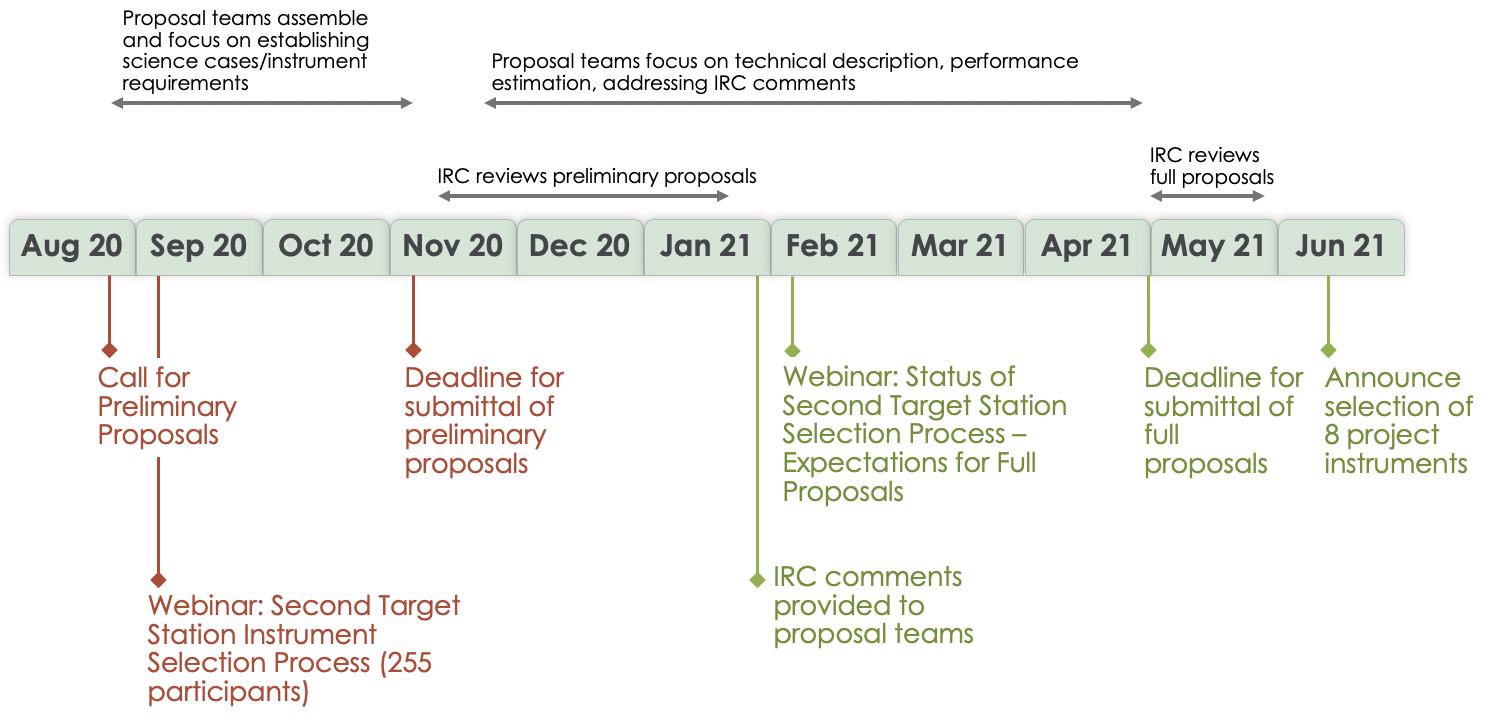 Key Activities and Dates for Full Proposal Stage of Instrument Selection
April 30, 2021 – Deadline for submission of full instrument proposals
May 3, 2021 – Proposals made available to the STS Instrument Review Committee (IRC) for review and comment period
Late May, 2021 – Individual instrument reviews complete by IRC
Early June (TBD), 2021 – Virtual meeting of the STS IRC with presentations by instrument teams
Mid-June, 2021 – Committee recommendations submitted to the STS project
Mid-to-Late June, 2021 – Management and stakeholder discussions
June 30, 2021 ­– Proposal teams notified of final outcomes. Email to user community and announcement posted on the STS and NScD website