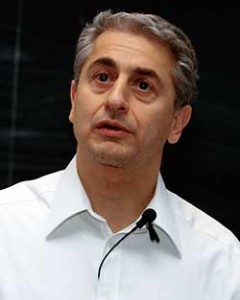 John Katsaras
Group: Biomembranes
Facility:
Spallation Neutron Source
Email: katsarasj@ornl.gov
Phone: (865) 274-8824
Current Appointments
Senior Scientist Biological Systems / Distinguished R&D Staff,
Neutron Sciences Directorate, ORNL, Oak Ridge, TN, USA.
Joint Faculty Professor, Dept. of Physics and Astronomy, University of Tennessee, Knoxville, TN, USA.
Research Interests
Primary area of research is soft condensed matter physics, in particular, the structural determination of biologically relevant systems and their interactions through the use of appropriate scattering techniques (i.e. neutrons, x-rays and light).
Current interests include:
The development of spontaneously forming, functionalised unilamellar vesicles specifically targeted to delivering payloads to the brain.
The detailed structure of biofilms.
Atomic resolution neutron and x-ray holographies.
Education
Ph.D University of Guelph, ON, Canada. Physics/Biophysics (1991)
M.Sc University of Guelph, ON, Canada. Physics/Biophysics (1986)
B.Sc Concordia University, QC, Canada. Biology (1983)
B.A Concordia University, QC, Canada. (1981)
Awards, Honors and Memberships
SIMS Annual Award for Improving Life in the Institute Canada (2007)
SIMS Outstanding Achievement Award, Canada (2001)
SIMS Outstanding Achievement Award, Canada (1999)
CNRS Poste Rouge Fellowship, France (1993 - 94)
NSERC Post-doctoral Fellowship (1992 - 94)
Ontario Graduate Scholarship, Province of ON (1987 - 88, 1989 - 90)
University of Guelph Physical Sciences Graduate Scholarship (1986 - 87, 1988 - 89)