Cell Killing Mechanism of ALS-Associated Dipeptide Repeats​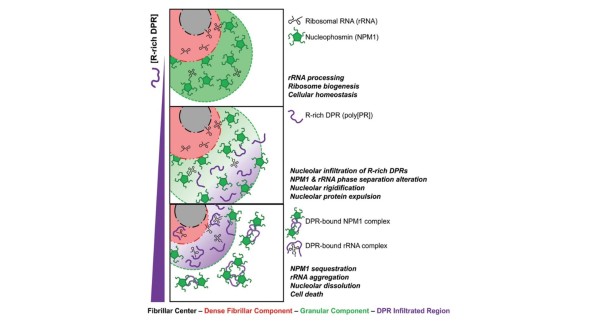 Scientific Achievement
Poly(proline-arginine) was shown to outcompete native nucleolar binding partners and form soluble oligomeric complexes with nucleophosmin (NPM1) when present in excess molar concentration.
Significance and Impact
The results imply a mechanism for cell-toxicity of arginine-rich dipeptide-repeat polypeptides (DPRs) through disrupting interaction of NPM1 with nucleolar partners, thereby inhibiting ribosome biogenesis and causing pathogenesis of amyotrophic lateral sclerosis (ALS), or Lou Gehrig's disease.​
Research Details
NPM1 exhibits sharp phase transitions in the presence of arginine-rich DPRs over a narrow concentration range.​
SAXS and SANS, combined with other biophysical techniques, were utilized to investigate the nature of large soluble complexes present upon droplet dissolution; these complexes are the endpoint of DPR toxicity.​
"C9orf72 dipeptide repeat toxicity arises in part through nucleolar dysfunction by modulation of biomolecular phase separation"​
White, M. R.; Mitrea, D. M.; Zhang, P.; Stanley, C. B.; Cassidy, D. E.; Nourse, A.; Phillips, A. H.; Tolbert, M.; Taylor, J. P.; Kriwacki, R. W. ​
Molecular Cell 74, 4, 713-728.E6 (2019). DOI: 10.1016/j.molcel.2019.03.019