In Situ Measurement of Buried Electrolyte−Electrode Interfaces for Solid-State Batteries with Nanometer Level Precision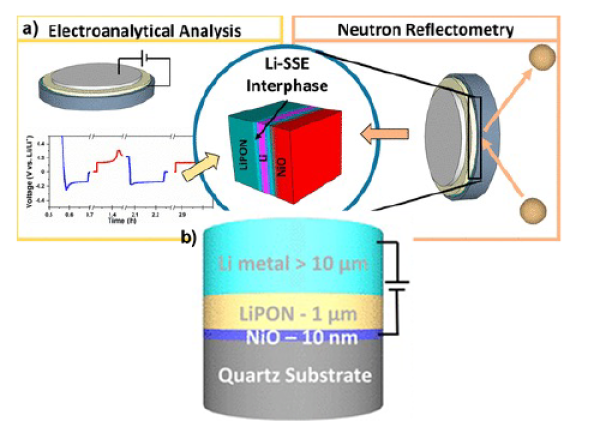 Scientific Achievement
The work revealed the formation of a Li-rich, 7 nm thick, interphase between the solid electrolyte LiPON and Li metal plated onto a nickel oxide working electrode in an all-solid-state battery.
Significance and Impact
This work provides the first evidence of the stable solid-electrolyte interphase formation believed to be responsible for the enhanced performance of LiPON and lays the groundwork for the design of electrolytes for larger scale high-energy solid-state Li batteries.
Research Details
NiO was sputtered onto a 50 mm diameter, 5 mm thick quartz substrate.
To form the thin film solid-state battery, 1 mm of LiPON was subsequently sputtered onto the NiO film followed by the thermal evaporation of 10 mm of Li.
In situ neutron reflectometry was performed during the electrochemical activation of the thin film battery.
"In Situ Measurement of Buried Electrolyte–Electrode Interfaces for Solid State Batteries with Nanometer Level Precision"
Katie L. Browning, Andrew S. Westover, James F. Browning, Mathieu Doucet, Robert L. Sacci, and Gabriel M. Veith
ACS Energy Letters 8,1985-1991 (2023). DOI: 10.1021/acsenergylett.3c00488