Three-Magnon Bound State in the Quasi-1d Antiferromagnet α-NaMnO2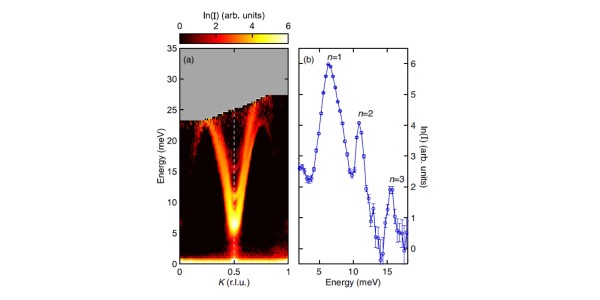 Scientific Achievement
A three-magnon bound state is observed in the quasi-1d antiferromagnet α-NaMnO2 and can be described by a semiclassical theory that maps the excitations onto a few-body droplet model of interacting bosons.
Significance and Impact
This work establishes a strong analogy between the physics of interacting magnons in antiferromagnets with uniaxial anisotropy and interacting bosons typically studied via ultracold atoms experiments. 
Research Details
The magnetic excitation spectrum was measured with inelastic neutron scattering, with the observation of single magnons as well as two and three-magnon bound states.
The results were well-described by a semi-classical theory with spectral functions calculated using density matrix renormalization group and time evolution calculations.
"Three-Magnon Bound State in the Quasi-One-Dimensional Antiferromagnet α-NaMnO2"
Rebecca L. Dally, Alvin J. R. Heng, Anna Keselman, Mitchell M. Bordelon, Matthew B. Stone, Leon Balents, and Stephen D. Wilson, 
Physical Review Letters, 124, 197203 (2020).
DOI: https://doi.org/10.1103/PhysRevLett.124.197203