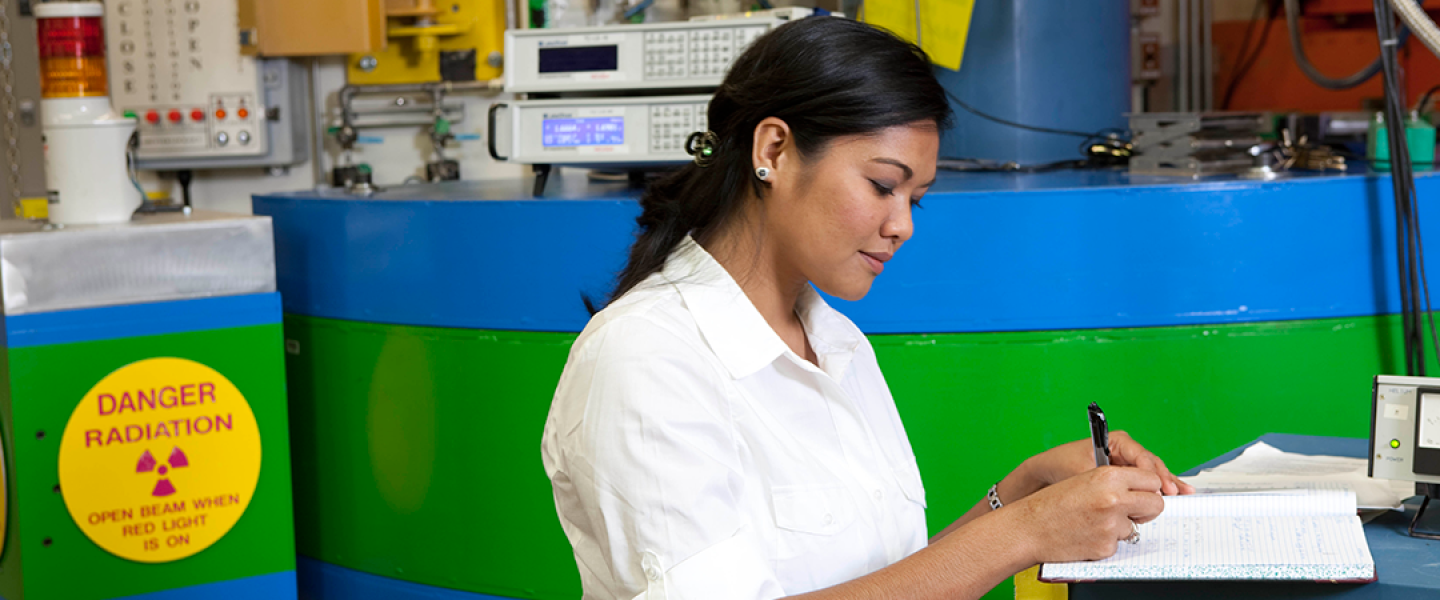 Information for POWDER Users
Instrument Introduction and Overview
An article titled "The high-resolution powder diffractometer at the high flux isotope reactor" was published in Applied Phys A: Materials Science & Processing in 2010 (99: 531–535) that details the instrument's capabilities and specifications:
Abstract

Neutron powder diffraction is increasingly recognized as one of the most powerful techniques for studying the structural and magnetic properties of advanced materials. Despite the growing demand to study an ever-increasing array of interesting materials, there is only a handful of neutron diffractometers available to serve the US neutron scattering community. This article describes the new highresolution powder diffractometer that has recently been installed at the High Flux Isotope Reactor in Oak Ridge. The instrument is designed to provide an optimum balance between high neutron flux and high resolution. Due to its versatility the diffractometer can be employed for a large variety of experiments, but it is particularly adapted for refinements of structures with large interplanar spacings as well as of complex magnetic structures. In addition to traditional crystal and magnetic structural refinements, studies of phase transitions, thermal expansion, texture analysis, and ab initio structure solution from powder data can be undertaken.
The full article is available to download and users are encouraged to review this resource.
Shipping Addresses for Samples
Please visit the ORNL User Facilities Sample Handling and Shipping page.
Sample Environment Capabilities
A list of equipment available at HB-2A can be found in the Sample Environment Equipment Database. The database contains detailed equipment specifications and images, drawings and other documents when available.
Ranges of Environment Conditions
Temperature: 30mK – 1700K
Magnetic field: Up to 6T vertical field
Pressure: Up to 2GPa (BeCu clamp cell) and 3kbar (Al-helium gas pressure cell)
NOTE: All conditions are not attainable simultaneously. Refer to the Sample Environment Equipment Database for ranges per equipment.
Access to HB-2a Data
Experimental files are accessible on the instrument using the Spectrometer Instrument Control Environment (SPICE) data acquisition and data reduction system.
Data may be accessed and reduced remotely from a secure server using the HFIR Graffiti software. A step-by-step guide to downloading and reducing HB-2A data into FullProf or GSAS file format is available.
Calculation of Absorption Correction: (mu) * (R)
Obtain mu [cm-1] using NCNR Neutron Attenuation and Activation Calculator
R is radius of powder can used for measurement. For the Vanadium powder cans: SMALL (R=0.3cm ), MEDIUM (R=0.37cm ), LARGE (R=0.45cm )
Additional Software Downloads
Graffiti – This program allows the user to download HFIR data to his/her own computer and browse through the scans in the experiment. It also allows combining data sets, angle calculations, spurion checks, etc.
FullProf and GSAS are Rietveld refinement packages for determination of nuclear and magnetic structures.
SaraH – contains the user friendly magnetic structure analysis programs SARAh-Representational Analysis and SARAh-Refine. SARAh uses representational analysis to calculate 'symmetry allowed magnetic structures' . The front-end SARAh-Refine facilitates analysis of magnetic diffraction data in terms of these results with GSAS and FullProf. When used with GSAS, SARAh allows reverse Monte Carlo/ Simulated Annealing refinement of the moment orientations. When used with FullProf, automatic creation and editing of the magnetic phase can be controlled by the user.
Calibration Standards
User Guides for an experiment at HB-2a
Wavelength Table
| | | | | |
| --- | --- | --- | --- | --- |
| Cycle Start | Cycle End | Cycle | Ge113 | Ge115 |
| 2/14/2017 | 3/11/2017 | 471 | 2.41014 | 1.53918 |
| 1/5/2017 | 1/29/2017 | 470 | 2.4109 | 1.5398 |
| 11/15/2016 | 12/9/2016 | 469 | 2.41009 | 1.539752 |
| 9/6/2016 | 9/30/2016 | 468 | 2.410371 | 1.539929 |
| 7/26/2016 | 8/18/2016 | 467 | 2.410371 | 1.539929 |
| 6/14/2016 | 7/8/2016 | 466 | 2.410818 | 1.540129 |
| 2/23/2016 | 3/18/2016 | 465 | 2.409231 | 1.539954 |
Lecture Notes and Example Data
Please refer to the Lecture Notes page from the Magnetic Structure Determination from Neutron Diffraction Data Workshop 2014 for example data and relevant articles.
Acknowledgement Statement for User Publications
Intent to Publish
As a condition for performing nonproprietary research, the US Department of Energy requires users to publish results from their research. Authorship of publications based on research from these facilities should reflect the normal considerations of recognizing collaborations. It is also important to take into account the considerable efforts of the instrument scientists in their role of designing, constructing, and/or operating the instrument and related facilities. Results are typically published in peer-reviewed journals, proceedings, or presentations at technical conferences. Proprietary users are not required to publish.
Credit Line
The Hb2a high-resolution Neutron Powder Diffractometer should be acknowledged with this required statement:
[Part of the] Research conducted at ORNL's High Flux Isotope Reactor was sponsored by the Scientific User Facilities Division, Office of Basic Energy Sciences, US Department of Energy.
Contribute to Our Publication Records
We would greatly appreciate if you let us know that you are submitting your results for publication and after your results have been published, please submit bibliographic information for your publications via the Publications Portal.